How to order your "Supporting Our Veterans" License Plates:
Orders are open to public; you don't have to be a Veteran to order.
1. Click the following link: Application for Supporting Our Veterans Plates (or right click and "Save Link As") and Print the Application, complete the application and proceed to step #2.


2. Include with your application a check, made payable to Mass DOT (Massachusetts Department of Transportation) and please do not date the check. Your check will not be cashed until 1500 pre-orders are received. Once your check is processed the $40.00 is non refundable.
3. Send the Application to the following address; DO NOT send filled Application to the RMV:
Disabled and Limbless Veterans
c/o Mike McNulty
122B Hill Street
Norwood, MA 02062
4. You will be notified by mail that your plates have been shipped to the requested Registry of Motor Vehicles branch. Bring your registration and current plates (if applicable) to the branch at that time. Before manufacturing of these plates begins, 1500 pre-orders need to be collected. Once that number is achieved, it will take approximately 6 months to manufacture the plates and for them to reach the branches.
Be aware, that the Registry of Motor Vehicles Division of Massachusetts, Department of Transportation has officially approved the plate and pre-approved the design. However, the final design is still subject to change.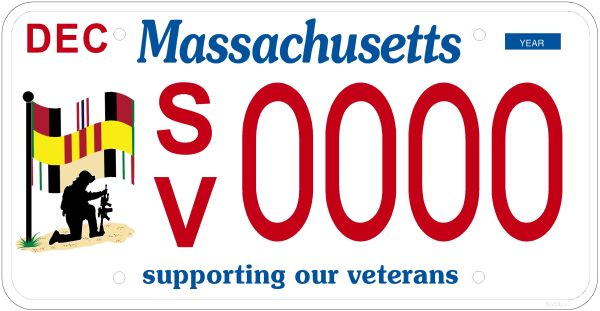 Note: There is a $20 plate swap fee, plus any applicable registration fees due at the time of plate pick-up. These fees will depend on your current plate number and year of expiration.
For instance, if your current plate will expire in March of 2012 and your new plate expires in January of 2013, the registration system will charge you an additional amount for the extra time you receive on your registration.
If you are putting your plate on a newly acquired vehicle, you must pay applicable sales tax, title and registration fees at the time of registration.
Registration on these plates must be renewed every 2 (two) years.
These special plates are available to Massachusetts residents using this form only; there is no online ordering process at RMV site at this time. License plates will use randomly assigned numbers. However, special requests may be accommodated provided the numbers are still available.